Theatre for Toddlers – After a great response in Bangalore we take it to the children of Delhi! Selected for the Tifli 2015, Festival of Theatre for Young Audiences (TYA) by ASSITEJ India, Bends & Flows is being performed in New Delhi on 5th Feb 2015 at Bal Bhawan.
Sat-Sun, 11 & 12 October 2014 | 11am & 4pm | S47 Panchsheel Park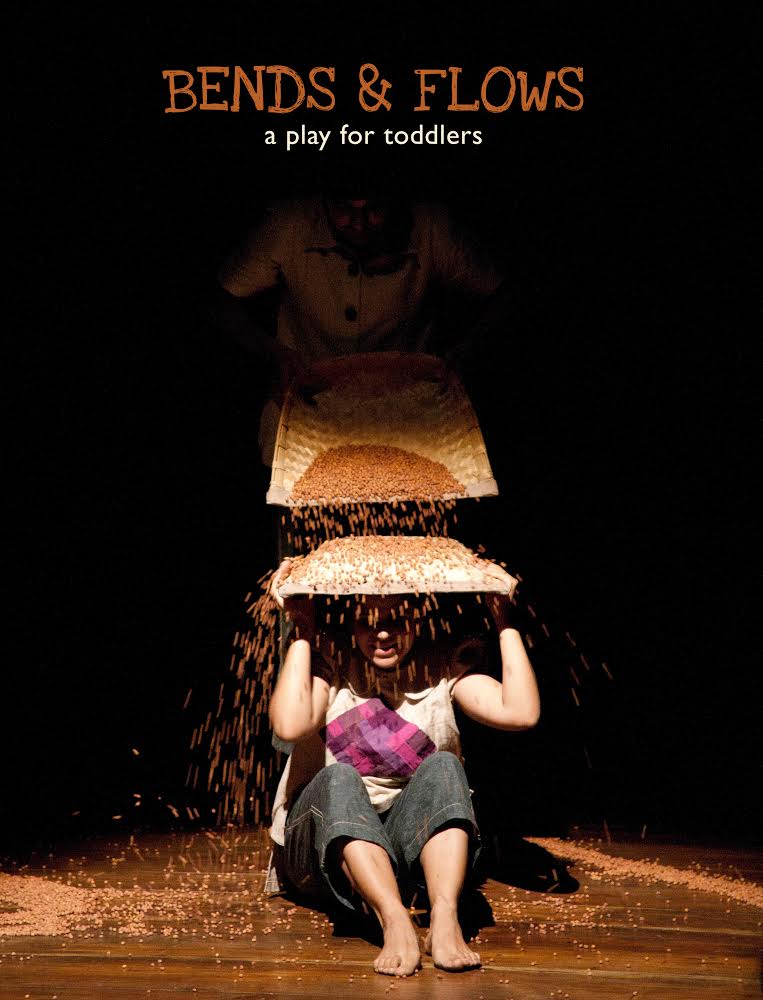 Bends and Flows works through the metaphors of the bend of a road and the flow of a river to show how everything we see, feel or think is always in transformation and that possibility of change is always built in to that which exists. The play does not rely on a linear narrative with a beginning and an end and does not seek to arrest the attention of its very young audience, unlike cartoon channels and other electronic media that children today are so readily exposed to. Given the easy and over-saturated access to such mediums, this play works on the register of the visual and the aural, playing with their sense of sight and sound while allowing glimpses into hidden narratives accompanying these rhythms and images which works well for the toddlers as well as adults. This is done with the use of one tangible material, which for our play happens to be kala channa, or chick pea as it is called in English.
Theatre for toddlers – which implies theatre created by adults for children between 18 months and 3 years – is a relatively new concept. The germination of this play took shape with a workshop facilitated by the Ranga Shankara Theatre in association with the Max Mueller Bhavan in Bangalore. The workshop sowed the seeds for the conceptualisation of Bends and Flows, which premiered at the Aha International Theatre Festival for Children in Bangalore on the 26th of July, 2012.
Performed by: Samta Shikhar & Bikram Ghosh 
Direction: Subhashim Goswami
Assistant Director: Neel Sengupta
Costume: Divya Jain and Virginia Rodriguez
Production: Anuj Chopra and Ankit Pandey
Lights: Anuj Chopra and Neel Sengupta
Presented in collaboration with the Tadpole Repertory.
If you are interested in bringing your toddler for the play, please confirm early as there is extremely limited seating. You can write to Anuj Chopra  (anujchopra7@gmail.com) or call on 99997 77543.